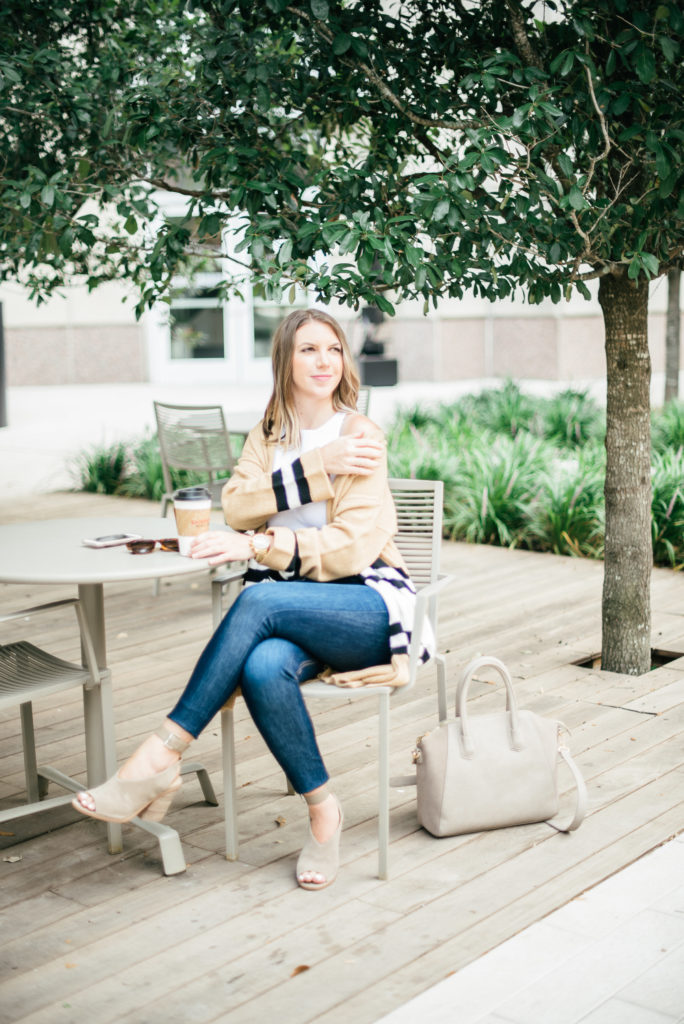 This #NSale Topshop colorblock cardigan is probably one of my favorite purchases from Nordstrom recently, and is the perfect fall piece to base a cozy outfit around. It marks off all of my favorite boxes: Neutral-check; Stripes-check; Soft-check, now all I need are these leaves to be golden and the temps to be down about 30 degrees and we are good to go! It runs a size or two large, and I'm in the US 2 here. I personally like the way this size fits me, a little slouchier, and LONG, (love that!) as it's the icing on the cake of the cozy factor. I have it paired with a plain white tank, that's actually it's a bodysuit, and I think it makes a great transitional piece to wear now, by throwing it on over a tank like this inside of a cold restaurant, and later wearing it over a solid color sweater when it does get cooler outside. That's one of the great things about buying pieces you may think are only appropriate in certain season. In my opinion, almost everything can somehow be worn year round. Just have to think outside of the box!
Topshop Cardigan | Bodysuit | High-Waist Jeans | Sole Society Purse | V-Cut Shoeties (rhymes with booties!) Bracelet | Sunglasses
Photography by: Sweet Memory Photographs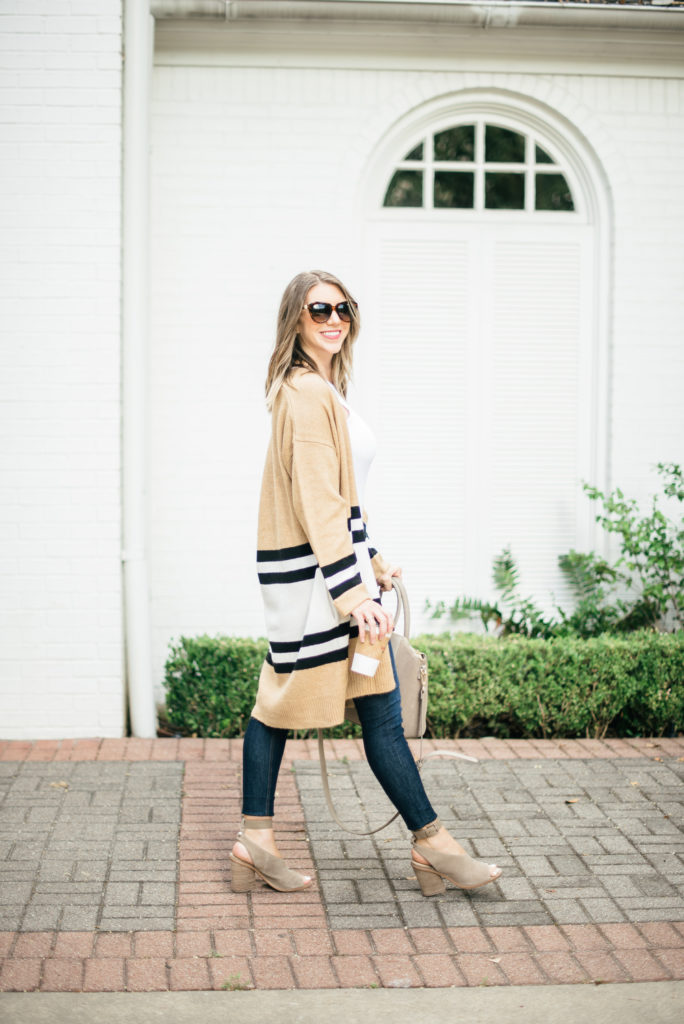 Everything I'm wearing here was picked up on major sale during the Nordstrom Anniversary Sale, and you may have heard me mention my love for some of these other pieces. If not, I'll brief you on why you need them! These jeans are high waisted and so so comfy. They're the perfect length, and I love the raw hem. I have never owned (I don't think) a grey/taupey colored bag, and this one is seriously so good! I love how the texture is mixed up! Something about me, style-wise, is that I love a neutral look, but I also love just one, maybe two, little details incorporated into what I have on, that takes it from a plain and boring look, to a well put-together, go out in public and get compliments, look! And this bag does just that. I also like how the longer strap is easily removable, if you want to use the bag to throw your laptop in and head to work. Don't really throw your laptop in though 😉 These shoes, oh these shoes. I am still crushing so hard on them! This week I styled them with a dress and have grabbed them nearly every time I've put on a pair of jeans. I can't get enough of the color, that cutout, and the thicker ankle strap! Did you see my previous post sharing another fab look from all things I scooped up from the sale? Take a look here!
P.S.- Here's a little tip- If you are wanting to buy anything in this post, or anything from the sale before it's over on Sunday, then I suggest you open a window on your computer for each item, and as often as you can, refresh the page, see if the item and your size are available, and immediately purchase! I personally have been able to snag about 4-5 items this way. If you later get an email saying your order was cancelled because they weren't able to fulfill an item/s, (BUMMER, it's happened to me too) then Nordstrom has offered to let you buy the item at the sale price when it does come back in stock after the anniversary sale is over with on August 6th. So that means when all the prices go back up starting August 7th and you buy one of these restocked items on say, October 21st, you can still get them at the anniversary sale prices! I can't think of any more reasons why Nordstrom is seriously the best, am I right?!
By the way, Happy Friday, gals! Do you have anything fun planned this weekend? I'd love to know! I've got nothing so far, but some good ol' R&R. Let me know if these tips helped, or if you've found another way to claim one of the many restocks! I'd love to know that too!
Shop This Look:
Topshop Cardigan (Size down, I'm in US 2) | Bodysuit (Size up, US 6)| High-Waist Jeans (Size down, I'm in 26, my new faves!)| Sole Society Purse | V-Cut Shoeties (rhymes with booties!) TTS, Bracelet | Sunglasses
Love this? Spread the word!