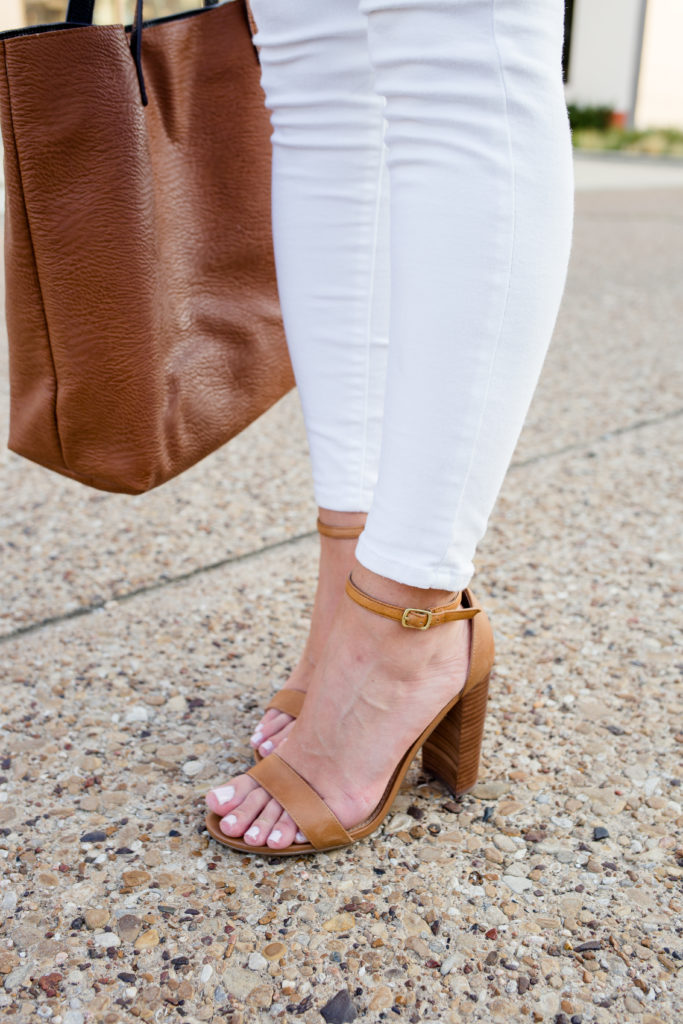 Do you often wonder how to wear white after Labor Day? Or, if you even can?? I'm here to tell you my opinion, which I think a lot of others will agree with as well.  If you read my last blog post here you would see a similar trend. That trend is aligned with this end of summer/fall is getting here season, so mixing and matching fall and summer pieces is perfect right now! What I mean by this is pairing my white jeans here with a more fall-related, in color, top! It makes so much sense since we have one foot at the beach (with the white denim)-figuratively speaking-and one foot on a crunchy pile of orange leaves (with the burgundy top).
Today I want to share just how you can continue to wear your favorite white pieces into the fall season. So let's dive in!
1. Put away your summer-specific white pieces and swap them for heavier fabrics, with less frilly detail.
So this basically means instead of reaching for, say, all-out lacy white tops, go for your light sweaters or solid textured tops instead. One of my favorite light sweaters is here for under $40! But, don't get me wrong, you can still bring a little bit of lace into the fall but I would always layer a cardigan or leather jacket over it, to make it more season appropriate.
2. Keep wearing your white denim, but pair your tops in darker hues, like my outfit above.
There's even something about a cream or all white palette that screams fall and winter to me. But you can choose a gray top, cream colored light sweater, black, olive green, you get the picture.
3. Choose your shoes wisely.
A lot of us tend to think of white clothing as something you wear to the beach or the lake, or to a summer shindig, so in training yourself to see the transition, something as simple as putting on a neutral pair of closed toe heels instead of your flat sandals or block heels instantly makes something like white denim ready for cooler weather. One of my FAVE pairs is one I just picked up here, on major sale too! We're talking from $98 to a sale price of $34! They're super comfy, I love the block heel, and they will go perfect with sweaters and jeans! Also, this gorgeous color d'orsay heel just screams fall, and it's on sale right now for right under $24. I also put these in my online shopping cart today and can't wait to get them in.
4. Once fall actually arrives, or the temperature does at least, camis and short sleeves are not what you will be reaching for. This is where your long-sleeve slouchy off one shoulder tees, tunics, and sweaters step in.
This may sound like a no-brainer but don't you agree that a tank top over a sweater looks very summery? That's because it does! So pair your white jeans with the above mentioned tops instead, and voila, easy fix! If it's October and the temperature gauge disagrees with you, remember to have lighter weight sweaters and tunics on deck so everything still plays an appropriate "sweater weather" part.
I hope these tips helped you, and if anything, it's reminded me how I'm ready to feel a little cool breeze across my face! But living in the South I may have to make a trip up North for this if I want to have PSLs and apple cider donuts without melting.  With that being said I'd love to know where you think I should travel to, to get some good fall weather and foliage, in the next month or so! And let's be real, a yummy homemade PSL in a local coffee shop won't hurt either. Let me know in the comments, and also if you have any questions about wearing your white beyond Labor Day!
As always, thanks for stopping by. xoxo, brandi
Love this? Spread the word!