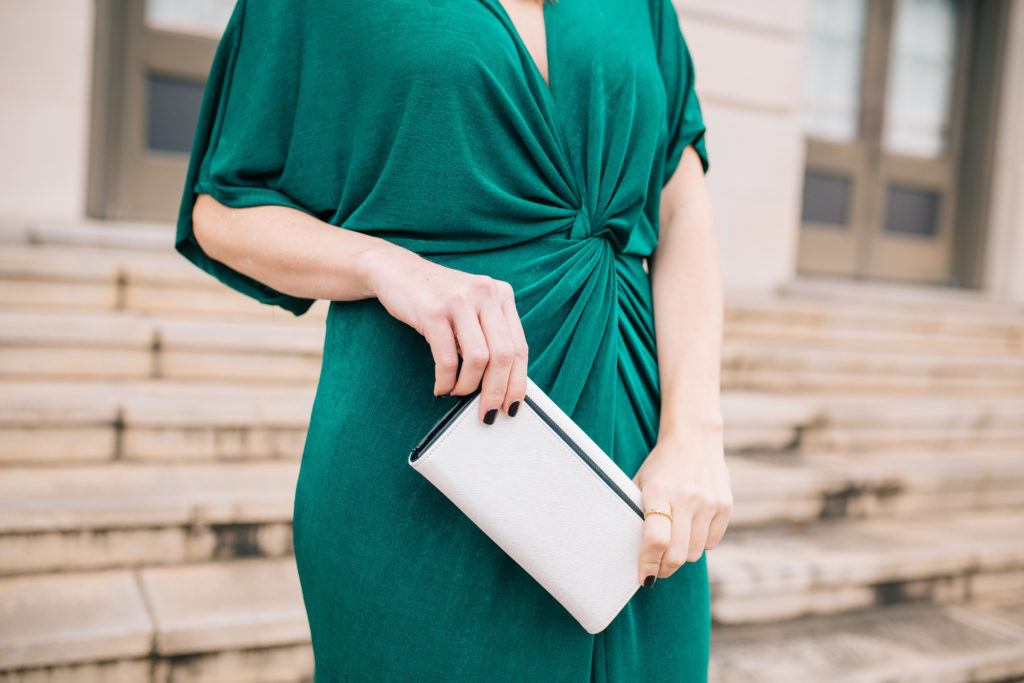 I hope you are having a holly jolly Christmas season! This time of the year always makes me a little happier, and smile more. Tell me I'm not the only one! This month is filled with cheer, parties, yummy food & drinks, friends, etc. etc., so it's hard not to be filled with joy!
Another reason that I have a little extra pep in my step lately is because of all of the kind and of course stylish girls I've met through blogging. Whether that be in person or through social media I am so happy to share in the support and new friendships. With that being said, today on the blog- thanks to Talina over at Sassy & Dangerous for putting together this collaboration, I have teamed up with some fun bloggers and we are all bringing you our personal glammed up holiday dresses, and showing you how to style them!
I picked up this g-o-r-g-e-o-u-s emerald knotted midi dress at a local boutique called Herringstone's Boutique, and sadly it is no longer available. However, I am sharing in the widget below several similar dresses that I personally would not mind wearing to a Holiday shindig!
When I choose something bold in color and/or print, which is not always often, I always keep in mind toning down the rest of my outfit, whether that is in shoes or the purse or clutch I choose. If my dress is simply a solid color with no print, like this one, I think it's totally ok to grab a fun detailed clutch like this, or a bold shoe, to give the dress a little more element of fun and interest. I have these earrings on, with this dress, and this outfit would have looked equally as good had I pulled my hair up in a messy low bun, to show off the big sparkly earrings!
I actually wore this dress to a Holiday blogging dinner on Tuesday, with my hair pulled up, with the same earrings I linked above. I got lots of compliments on the outfit, which was nice!
Do you have any holiday parties coming up? If so, I hope I've inspired you to put together a similar look, using the pieces I've linked here! As always, thank you from the bottom of my heart for taking the time to read! If you still are looking for gift ideas and stocking stuffers, my gift guide is here and stocking stuffers post is here! xoxo
Click on any picture below to shop instantly!

P.S. Don't forget to check out each of these girl's posts sharing their holiday dresses!
Jadore Grace, Styled in Blue, Haute Sweat, Christine-Marie, Lots of Sass, & Sassy & Dangerous
Love this? Spread the word!