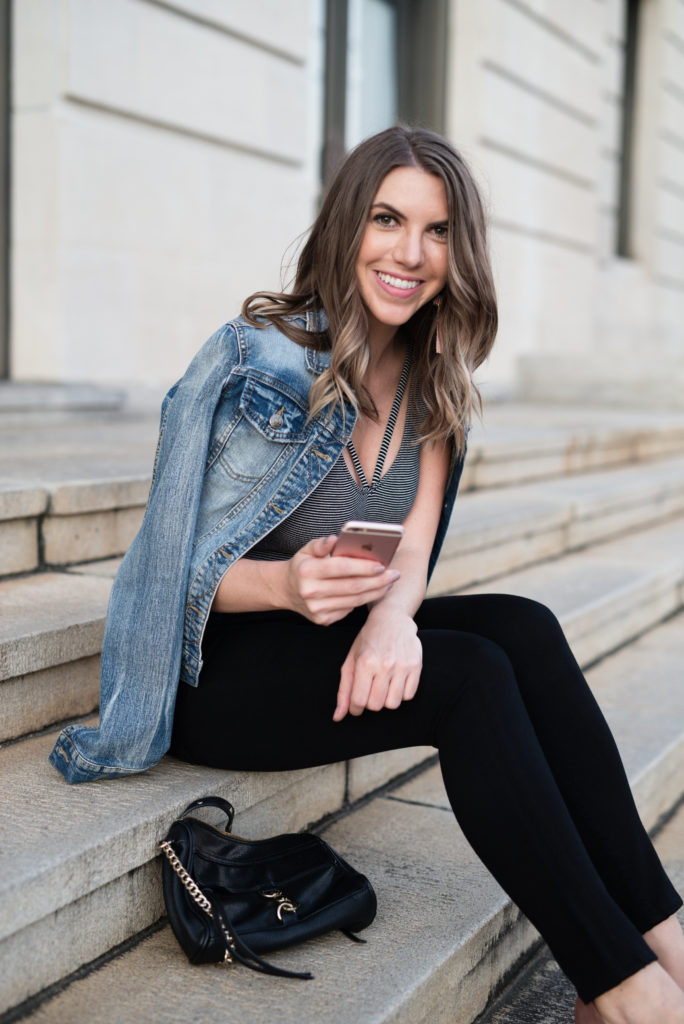 So let's talk bodysuits. I'm about to get real. Like most trends this is another one that took me a while to try out. I remember having the same reservation that I did/do with rompers: That it's too much work when you have to potty! Throw in a night out with a lot of drinks…yeah, you get where I'm going. Also, when I used to think of bodysuits I would often think of a constant riding up your bottom all day, and with this one it's not the case at all. Most I've tried before this one aren't long enough, or thick enough, so they don't stretch to fit comfortably without showing through your pants or whatever bottom your are wearing. So many things I hated. But, enter this one… two thumbs up!
With bodysuits coming out more and more at several retailers, I tried a few, returned a few, tried a couple more, and ended up with this one, like I mentioned above. What I love about this bodysuit is that it is not uncomfortable in any way. It's thick, stretchy, well-made, and just really comfortable! It sort of reminds me of a thick, soft one piece swimsuit..ha! I love the black and white stripes, and if you've paid attention at all, I am a total lover of black and white AND stripes, and this combo really tops it for me!
With a bodysuit I generally think to go up a size, and I'm usually right. Something that "tight" and body-hugging I normally size up. I'm in a medium in this. And the cute strappy detail up top is what really sold me. It would have been just as cute as a scoop neck or v-neck, but my favorite way to wear any basic is when it's got a little flair added to it like this.
I of course paired it with black denim, and for some pop of color I wore shades of pink in my tassel earrings and these gorgeous mauve d'orsay heels that are incredibly comfortable and so on trend for the Fall season this year. They were also a steal at under $30. My denim is older, made by Citizens of Humanity that I've had since 2011 and to this day still are holding up more than I could have ever expected. They look brand new! And just a little pro tip about denim, since I interned in college at a designer denim boutique–side note: my degree is in Fashion Merchandising although I do not work in that field full time–the age old saying of "you get what you pay for" holds true with jeans. My tip is to invest in your jeans. Most of us wear jeans so much, and when you get a pair that has technology built into the fabric keeping the stretch to a minimum as far as bagging and stretching out (goodbye baggy knees..anyone else with me?) it means that you will get so much wear out of them. I just lucked out with this pair, and since they are black, they have surprisingly not faded after 6 years of constant wear!
Also, happy Monday! I had an equally busy and relaxing weekend, and it was nice. Coffee date, wine with friends, lots of laughs, followed by a full day lounging around. If you're in the mood to do a little online shopping today check out this blog post from last week to see the hottest & easiest Fall dress to snag right now!
What are your thoughts about bodysuits? Have you tried them? If so, what's your favorite one?? Maybe I'll get another and style it completely different next time!
Bodysuit (size medium)|| Black Denim (Size 27), similar and more affordable black denim, similar and more affordable black denim|| Denim Jacket (size small)|| Mauve D'orsay Heels (size down half a size)|| Pink Tassel Earrings|| Black Rebecca Minkoff Purse, similar and more affordable black purse ($16!)|| Smashbox Lipstick: Color Mauve Matte (Perfect year-round pink/nude!)
Shop The Post

Love this? Spread the word!