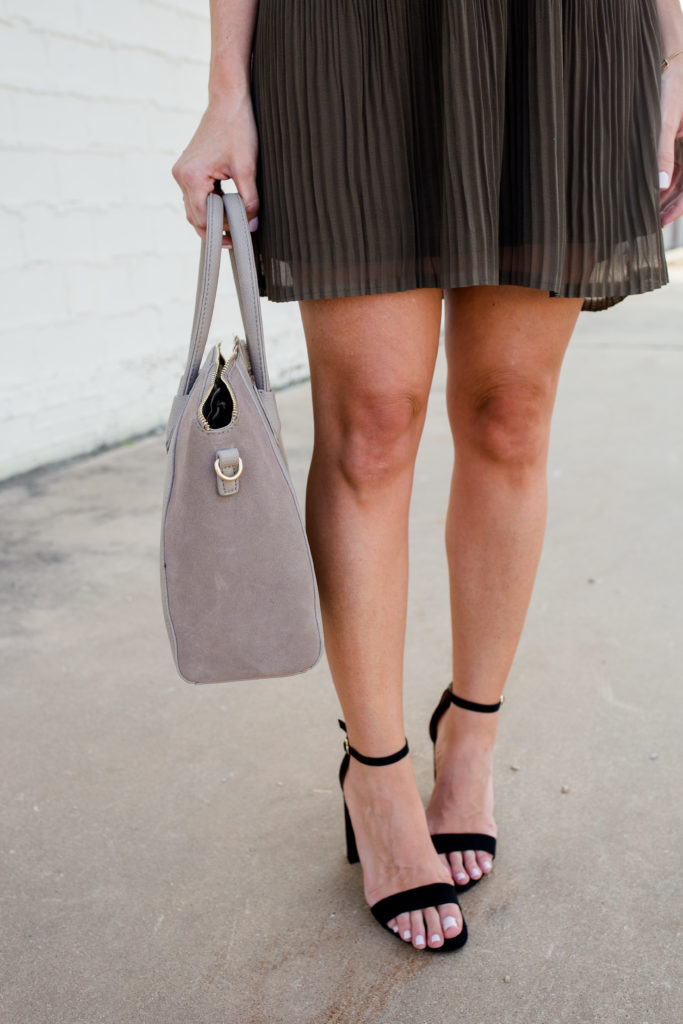 How pretty is this pleated olive green dress?! Best parts are that it's right on trend for the fall season with the color and the pleat detail, it's under $20, yes, I know-what a steal-and it would look so good under a black leather jacket! It also has just the right amount of edge with the slit in the top front. If you are a little more busty I would size up. I went with US 8 in this. It also comes in this gorgeous mustard shade that I contemplated way too long in the fitting room for which one to get. I am a sucker for olive green in the fall so I obviously ultimately ended up with this one over the mustard shade, which online is called orange. Either way, they are both half off right now and marked down to under $20, so I may have to pick up the other color too!
It has been a non-stop weekend for me, with celebrating two friends-one's baby shower & another's engagement party. All of these changing seasons of life just make me so happy, and I love getting to be a part of it all! Also, our weather has been especially amazing, which is unheard of for South Louisiana. We have been known to celebrate Christmas in sweltering humidity and t-shirts, so this nice change of real fall air is amazing. #pleasestayawhile.
I shared a close up picture from this shoot on Instagram last week, in case you saw it, where I shared all of my everyday makeup products, which surprisingly give me a really put together, really quick, look. I will link them again here in this post, and go into a little more detail about how and what to do. So let's dive right in!
5 Minute Face-
1.) After I moisturize, I apply this primer with my fingers. It's perfect for giving your skin a really smooth canvas, and evening out any pores or lines. I let this absorb a little before applying foundation.
2.) Next, I take a damp Beautyblender with 2 pumps of this foundation-I'm shade Desert Beige-and pat/bounce all over my face. I have been using a beautyblender for a couple of years now and I don't know how I ever used anything else! The way it applies and blends foundation is so good!
3.) I then go back over any areas that need a little more coverage with this powder (shade 22 cool beige), using a flat kabuki brush. Doing this step really gives an airbrushed look.
4.) I apply a little bronzer (shade Los Cabos) in a "3" on either side of my face, and blend it in well. This shade has a more grayish tone, since my skin seems to oxidize makeup I put on. Basically this means makeup colors are much darker or just different on my skin than they may be on others. No idea where this comes from, but it's always been an issue with lipsticks especially. My lips are very pigmented, very pink, so colors are just more amplified. Moving on…!
5.) I dust this coral shade blush (shade Luminoso) on the apples of my cheeks with an angled blush brush, and guess what-it's a dupe of the infamous Nars Orgasm blush, but for a fraction of the price and very similar pigmentation and quality. I've been using it year-round for a couple of years and I don't think I'll ever go back! It's that good.
6.) I'll next swoop a little bit of highlighter (color Champagne Pop, which is coincidentally my favorite beverage ;)) on the top of my cheekbones, inner corners of my eyes, and my cupid's bow, using this brush, with this amazing highlighter. A little bit of this goes a long way. Trust me. It's the prettiest subtle color, but catch it in the sunlight and you won't be able to quit staring at your face!
7.) For everyday looks I normally don't wear eyeshadow. I'll just put on a small line of black liner on my top lid, skipping the bottom water line. I find that a liquid liner works best for me, in not tugging or dragging, and in creating a smooth and even line, and this one is just easy to use! It's basically like using a really fine-tip marker.
8.) Next I curl and prime my lashes with these two game changers-this curler (any curler should do fine) and this mascara primer duo. I just use the primer side, not the mascara side. If I plan to have my makeup last all day, or through the night for an event or two, I will use this. I find that it gives my lashes that "staying power" if that makes sense. I have sworn by this mascara for years now, but recently discovered this dupe. I honestly can't say a bad thing about the dupe, and for a fraction of the price I may re-purchase this one when they are both used.
9.) I'll spritz on a setting spray to keep my makeup in place and for it to last as long as possible, and this is one I've used for a while!
10.) I normally wear this lip color year-round as it's the perfect nude-pink. It works well if you have pigmented lips like I do, and the formula is not a dry/matte one. It's the shade Mauve Matte. So good!
And that's it! This is really easy peasy! If you try it out please let me know by tagging me in a pic. Also, one last note about the dress. If you've got any reason to feel like a grecian goddess this one is just perfect.
Thanks for stopping by & reading! xoxo
Shop The Look
Shop The Makeup
Love this? Spread the word!